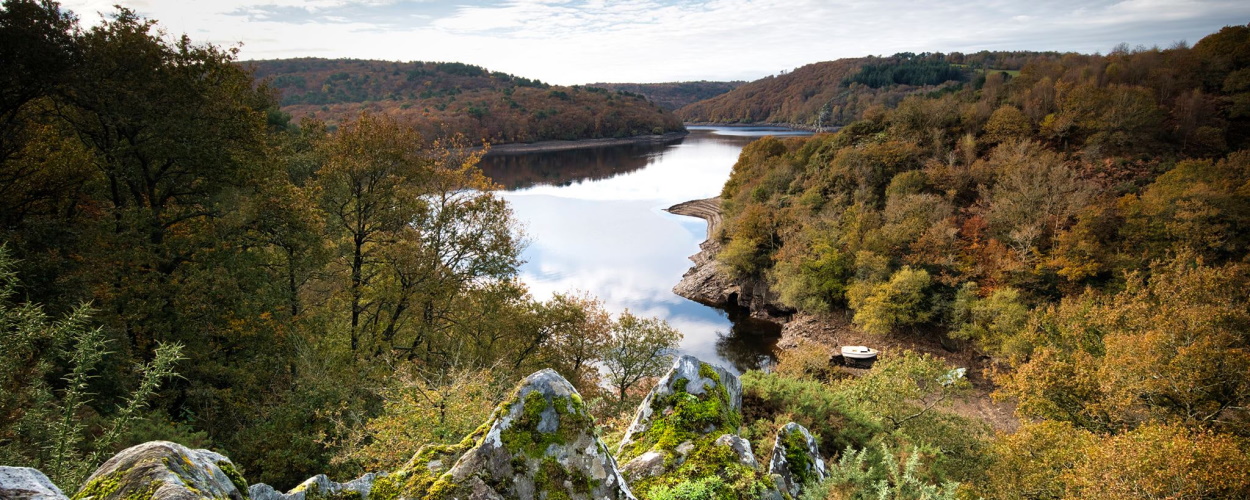 Lake Guerlédan
The biggest lake in Brittany
The biggest lake in Brittany runs along the central valley offering you leisure activities and the opportunity to relax: from sports trails to a quiet spot of angling.
There's plenty of choice of both entertainment and activities, on the water or along the footpaths if you enjoy nature walks.
The 304 hectares – that's about 750 acres give or take – surrounded by La Forêt de Quénécan, wide open spaces and craggy slate schist outcrops stretch from the hydroelectric dam at Mûr de Bretagne to l'Abbaye de Bon-Repos, near Gouarec.
A view over the lake
From the west, near l'Abbaye de Bon-Repos and la Forêt de Quénécan, Tregnanton offers hikers the most beautiful view over the lake. The surrounding nature gives it the appearance of Nordic landscapes, which shelter fishing boats in its cove.
Everyone has their own activity, as a family, alone or in a group: a ride on the speedboat... a guided hike... enjoy every moment of exploring Lake Guerlédan.
Ideal for sport
Every year the Guerlédan Trail brings thousands of runners to pound along the uneven tracks around the lake in the gentle spring weather. If your ambitions are less strenuous, then maybe hiking is more your thing.
You can choose between going on foot, mountain biking, or running if that's your thing. Run along the marked pathways and do "Le Tour du lac de Guerlédan", some 40 km in all, between forest and moorland in natural surroundings with beautiful views.
Along the way, you will meet hikers and walkers, also out to enjoy the freedom of the open air.