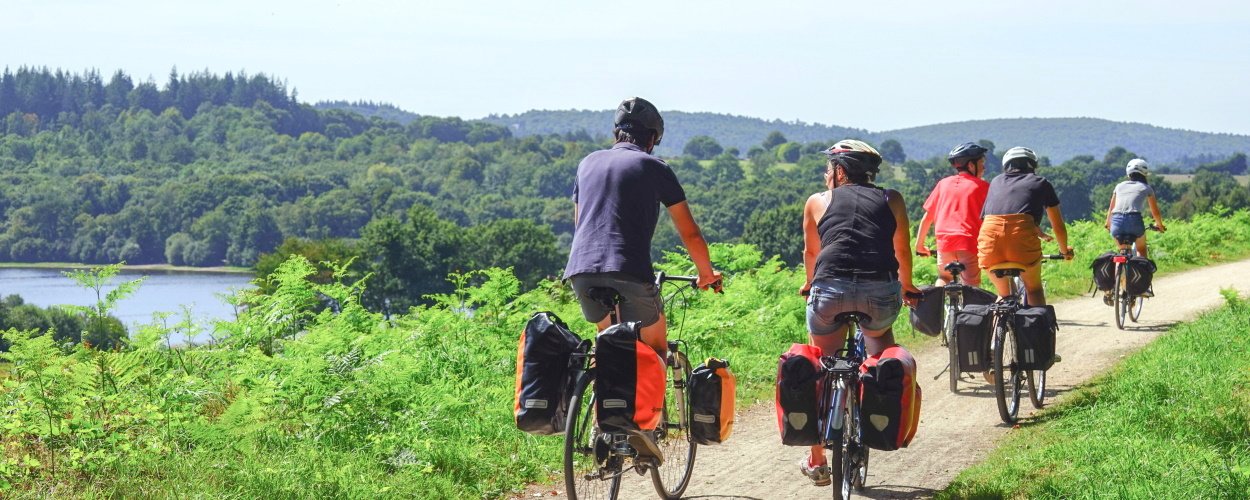 Take a leisurely ride
By bike everything looks better!
Roaming or radiating from the centre
Cycling gives you the freedom to choose. Alone or with the gang, cycle down the marked trails in safety and visit Kreiz Breizh at your own speed. Slow is good! And isn't that just the best way to get to know a place?
Road bike, mountain bike or Green Ways?
Ideally situated, the centre of Brittany is at the crossroads which gives you access to cycle paths along the Nantes- Brest canal, or the old railway line from Carhaix to Saint Méen Le Grand or cycle along the sign-posted cycle trails around thee Lake of Guerlédan. Whether you're keen on sport or simply want to get active as a family, you will find a circuit to suit you.
Where can you sleep?
After a long day cycling, you can rest at a camp-site, a B&B or a hotel.
If you choose accommodation bearing the "Accueil Vélo" sign, cyclists get a special welcome and are looked after from the moment they arrive. For your evening meal or a picnic lunch, you just have to book ahead at a restaurant for a delicious meal for when you arrive.
Find out about all available accommodation, because there's sure to be a bed for the night nearby.