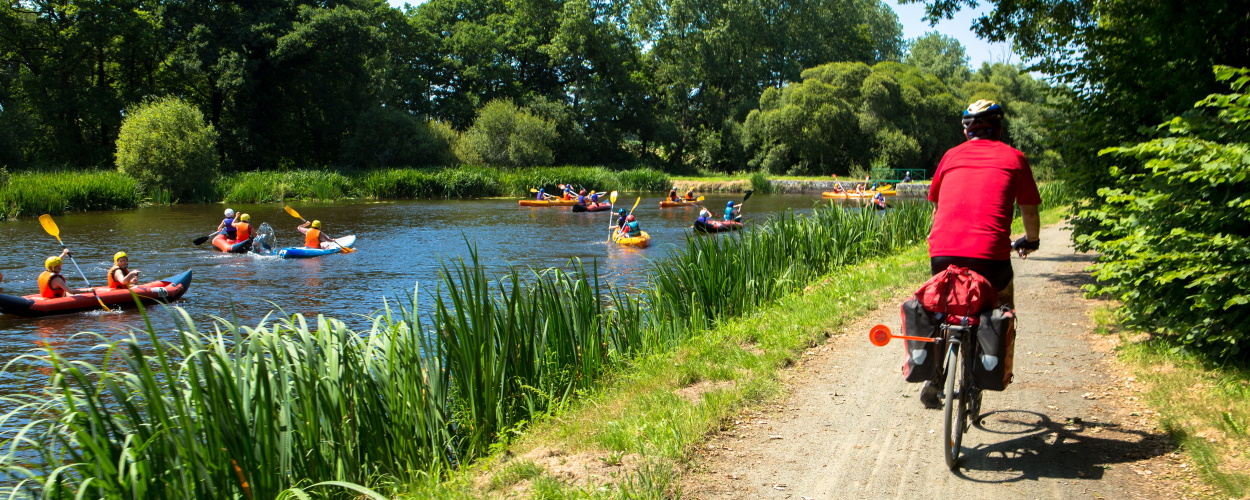 The Nantes-Brest canal
Along the towpath
Cycling holidays: the canal and "La Vélodyssée"
Leaving from Nantes to the Bay of Brest? Or from Brest in the other direction?
Get your bike and decide on which route to take! Travelling along the Nantes-Brest canal requires a bike so that you can admire the scenery, a testimony to Breton history and culture.
You will measure your progress along the canal by counting the 236 locks. The towpaths have been made up and are safe for both cyclists and walkers. In Kreiz Breizh, they are relatively flat, with the locks marking the slight differences in level. This section of the canal is accessible for families, for little legs on little bikes and bike strollers.
Camp sites, B&Bs and hotels carrying the sign "Accueil Vélo" can be found on our website.
A unique experience
A cycling holiday involves taking time out to find out about all sorts of places along the way.
Stop off at the Abbaye de Bon-Repos, Lan Bern nature reserve and the historic village of Gouarec: there are many reasons to get off your bike and really visit Brittany. If you up for more action then head down the lock slides in an inflatable canoe, get in a canoe and paddle, take a quiet boat trip or stretch your legs pedalling along the Vélo-Rail on the old railway lines from the station in Gouarec.
Did you know that you come across all sorts of things along the Nantes-Brest canal ? Just imagine, a barge trip starting from Bon-Repos, a boat trip on the quiet canal waters or a trot along the towpath on horseback or by donkey, or simply set down your fishing gear on the canal bank.